#Best Deal: Price Reduction
New Price: A pedido
Maquinas de impressio e equipamentos usados:
Offset plana Maquina
PD Ref: 03452 |
Ultima actualizacio: 13-03-2014
Viewed: 6223 times
Requests: 28

Idade: 2001
Tamanho: 74 x 52 cm (29 x 20 inch)
Estado atual: In stock
Cores: 2
Imp. Conte: 98 mio
Extra: | Autoplate | Perfector | Ink Remote Control | Autosize
Revendedor Ref.No: M0184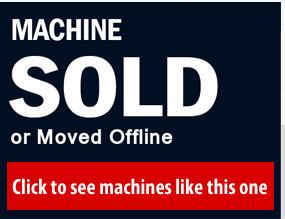 Descricio:
This machine has been sold. Send your request for a similar machine to sales@trusk.me If you have such a machine for sale send us your offer!

MAN Roland 302 HOB (2001), ref. M0184
About 98 mln. impressions
Perfector 2/0-1/1 printing
Max. size 52 x 74 cm
Serie 338
Console RCI (Remote Control Inking)
Rolandmatic dampening (cooling & circulation with remote control)
CPL (semi automatic plate change)
Automatic blanket wash-up device
Automatic ink roller wash-up device
Powder Weko T 77
Register Bacher
Complete machine with no damage

The machine is in stock and can be inspected in Germany

Available today!

Price reduced!

***

Эта машина продана, пришлите Ваш запрос, если ищете или предложение, если у Вас есть аналогичная машина на продажу:

MAN Roland 302 HOB (2001), ref. M0184
Около 98 млн. оттисков
2 краски
Печать с переворотом 2/0-1/1
Макс. формат 52 х 74 см
Серия 338
RCI пульт дистанционного управления красочным зонами
Устройство спиртового увлажнения Rolandmatic с пультом управленя процесса охлаждения
Полуавтоматическая замена пластин CPL
Автоматическая смывка офсетной резины
Автоматическая смывка валиков
Порошковое устройство Weko T 77
Штифтовая приводка Bacher
Машина комплектна, без повреждений

Машина на складе и её можно проверить в Германии

Доступна сегодня!

Цена снижена!
Localizado:
Europe Western
Estado atual:
In stock
Disponivel:
Immediately