Macchine da stampa et Impianti Usati:
Offset stampa macchina
PD Ref: 85366 | Last updated: 13-10-2020
Viewed: 249 times Enquiry's: 13

Latest Enquiry for this machine was from
Italy.
Anno: 2001
Max.formato: 162 x 120 cm (63 x 47 inch)
Stato attuale: In production
Colori: 4
Impress.Cont: 220 mio
Extra:
Dealer Ref.No: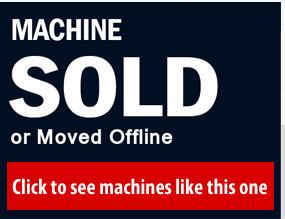 Descrizione:
KBA 162a-4 SW2 PWVA ,2001.
(4 color straight or 2 2 perfecting).

220 Mil.Imp .

Max paper size: 120x162 cm.
Min paper size: 60x92cm.
Max speed (Straight) : 11,000 S/H.
Max speed (Perfecting): 9,000 S/H.
Paper range: 0.06-0.8mm .
Colortronic.
FULLY AUTOMATIC PALTE CHANGE
Automatic perfecting device after 2nd unit for 2 2.
Technotrance combi cooling device for ink and damping .
High power KERSTEN antistatic system on infeed and delivery .
Ultrasonic Double Sheet detector.
Blanket , Rollers and Printing Cylinders washing device Baldwin.
Preset , Weko AP260, Jonoget Spray powder controlled by Colortronic.
Bending plate, Electrical cabinet cooled, IR Dryer on delivery .

Available immediately .

Location: Central Europe.
Localisata:
Europe Central
Stato attuale:
In production
Disponible:
Immediately