Used Printing Machines and Equipment:
Sheetfed offset machine
PD Ref: 80169 | Last updated: 01-04-2020
Viewed: 1297 times Enquiry's: 98

Age: 2000
Max.Size: 103 x 72 cm (40 x 28 inch)
Current State: In stock
Colors: 4
Impress.Count: 90 mio
Extras:
Dealer Ref.No: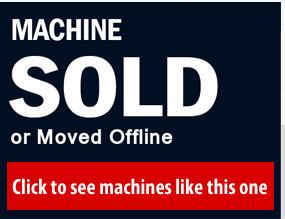 Technical Description:
KOMORI L 440C, 2000

Approx. 90 mill. impressions
Sheet-fed offset press - Printing units: 4 Lack unit
Straight machine
Size: 28 x 40 inch (720 x 1030 mm)
Technical features:
Speed: 15.000 sheet/h
Max paper size: 720 x 1030 mm
Min paper size: 360 x 520 mm
Thickness: 0,06 -0,6mm
Print area size: 705 x 1020 mm
Plate size: 800 x 1030 mm thickness:0,30 mm
Blancket size: 900 x 1040 mm thickness:1,90 mm
Dimensions:
L. 12,5 mt.
P. 3,9 mt.
H. 2,5 mt.
Power requirement: Kw 65 approx.
Weight: 42.700 Kg. approx.
Accessories included:
Steel plate on feeder and delivery with ramp (for plastic or wooden pallets)
Stream feeder with belts
Electromechanic double sheet detection
Anti-Static device
PQC Off Press Controls with overhead lamp,
PDC-S Print Density Control
KMS-IV Komori Management System
KOMORIMATIC dampening with Cremoplast Acqua press recirculation unit
S-APC semi-automatic plate change
PTP automatic thickness setting
Plate cylinder cocking
AIRC Automatic Ink Roller Wash-up
ABW Automatic Blanket Wash-up
AIW Automatic Impression cylinder Wash-up
Ink temperature control
Coating unit with conventional system
Sheet decurler
Sheet slow-down device
Chromed cylinders
Powder sprayer Grafix
IVT Combi IR dryer
No air compressor
No plate punch
Oil drip pan, Tools, Documentations
Complete with all standard parts and accessories

Conditions: NO damage on cylinders and gears
Availability: Immediately
Visible: The machine can be inspected in dismantled in our stock.
Located:
Europe Western
Current State:
In stock
Available:
Immediately