#Best Deal: Just Listed
New Price: On Request
Used Printing Machines and Equipment:
Die Cutting machine
PD Ref: 77550 | Last updated: 16-02-2020
Viewed: 380 times Enquiry's: 6


Latest Enquiry for this machine was from
Germany.
Age: 2007
Max.Size: 106 x 76 cm (41 x 29 inch)
Current State: In production
Dealer Ref.No: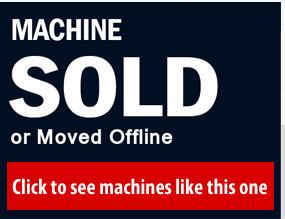 Technical Description:
Bobst Sprintera 106 LER
Year: 2007
Speed 12,000 p/h
Size 76 x 106 cm
Equipped with:
Platform with safety barrier.
C.U.B.E. Bobst-Electronic machine operating system
JOB CARD system for saving the data for repetitive jobs on microchip.
Machine configured for BOBST VIEW system.
Centerline system for quick job changeover.
Electronic device for sheet travel control.
Main motor with frequency converter control.
Feeder
Manual non-stop device.
Automatic lateral shifting of pile tray.
Up to /- 50 mm, with feedback from the POWER REGISTER.
Synchronization of the sheets arrival.
Automatic, with feedback from the POWER REGISTER.
Continuous pile raising whilst maintaining a constant height for the top of
the pile.
Suction unit with multiple adjustments.
Feeder enabling adaptation of Automatic Pile Transfer (APT).
Alignment flap in 3 sections (the 2 external ones are adjustable in height).
Feed Table
POWER REGISTER.
Device ensuring registering without sheet edge contact : either in relation with the sheet
edge or in relation with print register.
Double sheet detection with automatic calibration.
Upper transport equipment for paper, paperboard.
and microflutes.
Laterally guided transport belts.
With lateral guidance and automatic tension system.
PLATEN PRESS
Small stroke movable platen, controlled by a movement of the cams.
Upper vacuum beam for the chase.
Oil conditioning unit to ensure diecutting stability.
With a programmable oil preheating system.
Automatic equipment centering and locking for chase and supporting
plate.
Motorised cutting force setting.
Adjustable centerings for supporting plate.
Micrometric screws allow fine adjustment of the cutting plate with respect to the die. The
total range for adjustment is /- 0.7 mm both lengthwise and crosswise.
Waste Stripping Station
Sheet braking device using the Bernoulli system.
Central quick locking pull-out frame.
Quick locking device for upper tool integrated in the machine.
Adjustable centering on all equipment (upper, central and lower).
Dynamic blocking of upper tool in upper position.
1 Adaptation equipment for upper stripping die (quick locking) (F-35)
Allows wooden stripping form fastening in the upper quick locking device
integrated in the machine.
1 Adaptation material for stripping board on the central pull-out frame (quick
locking)
Stripping board adaptation to mount it on the central pull-out frame (quick
locking).
BLANK PILE DELIVERY STATION
Automatic binder sheet inserter with electrical sheet presence control.
Automatic selection of suction cups according to sheet size.
Continuous pile lowering whilst maintaining a constant height of the pile.
Automatic variable height non-stop rack.
Waste or skeleton removal apron.
Braking brush of the waste skeleton.
Located:
Europe Central
Current State:
In production
Available:
Immediately