#Best Deal: Just Listed
New Price: On Request
Used Printing Machines and Equipment:
Sheetfed offset machine
PD Ref: 74939 | Last updated: 09-10-2019
Viewed: 529 times Enquiry's: 35


Latest Enquiry for this machine was from
Hong-Kong.
Age: 2005
Max.Size: 106 x 74 cm (41 x 29 inch)
Current State: In production
Colors: 6
Impress.Count: 69 mio
Extras: | Autoplate | Ink Remote Control | Coater | Autosize | Dryer | CIP
Dealer Ref.No: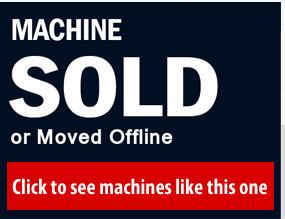 Technical Description:
Max paper size 740x1060,
Min paper size 340x480,
Max Mech speed 18.000s/h,
69 Mio copies (08/2019),
M.Y. 2005 first
installation 2006,
Paper Range from 0,06 to 0,8 mm. up to 1,2 mm with CX,
Colortronic,
Automatic Plate Change with
pneumatic bending plate machine,
Technotrans Combi cooling device for ink and damping controlled by Ergotronic,
Kerstern antistatic system high power,
Ultrasonic and Capacitive Double sheet detector,
Blanket, rollers and printing
cylinders washing device Baldwin with winding stands,
Preset, Wash and Print System for easy change of ink,
Non stop
on infeed and rollo on delivery,
Blowing CX device for heavy cardboard (Compressor exscluded), Coating unit
with Harrys & Bruno doctor blade with Feeding and cleaning system for conventional and UV (termoregulated) varnish,
Delivery extension 2,4 mt,
Weko AP 262 Ionomat spray powder, Machine elevated 450 mm., Double washing circuit
for conventional and Hybrid INK, Plastic Package, Machine prepared for Hybrid prints, ACS AIR Cleaning
System, ACR Automatic Regyster,
Electrical cabinet cooled, IR Hot Air and UV Dryer on delivery,
Nr. 2 UV
Interdek with exchangeable position after every unit,
Densitronic S, Set of reserve rollers,
Available 03/2020,
Location Europe.
Located:
Europe Western
Current State:
In production
Available:
Immediately