#Best Deal: Price Reduction
New Price: On Request
Used Printing Machines and Equipment:
Label-Printing machine
PD Ref: 72246 | Last updated: 06-08-2019
Viewed: 728 times Enquiry's: 16

Latest Enquiry for this machine was from India.
Age: 2012
Max.Size: 46 x 26 cm (18 x 10 inch)
Current State: Under power
Dealer Ref.No: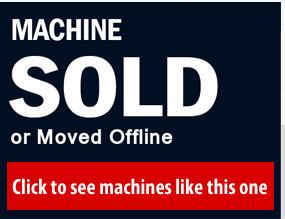 Technical Description:
LABELMEN PW-260-R8C.

Universal 8-color full rotary letterpress (flexographic) printing machine of elite class.

MAXIMIZED APPLICATIONS:

- for regular label
- for flexible packaging
- for laminated tube industry.

Good price, Great specification, Excellent technical condition, Highest print quality and performance, Compact dimensions, Low possession price.


DETAILED DESCRIPTION:

Year: 10.2012
Condition: Excellent
Complete and in working condition
Operating time: 2450 hours (approx. 4-5 months of normal operation)
Current State: under power
Totally checked and cleaned
Available: immediately
Inspection and test press are possible at any time.


TECHNICAL DATA:

Max. web width: 260 mm
Max. printing width: 250 mm
Max. printing length: 460 mm
Min. printing length: 190 mm
Thickness: from 12u to 400u (depends on substrate type).
Max. printing speed: 100 m/min
Max. unwind reel dia.: 800 mm
Max. rewind reel dia.: 800 mm


SPECIFICATION:

Unwind unit with tension control
Automatic web guide system (FIFE, Germany)
Central impression drum, 1000 mm (with central lubricant device and fast pre-registered impression drum system)
8 UV-letterpress printing units (with fast change plate cylinder system and length-and-side-lay register control)
Chilling cylinder station with water cooling (for unsupported polymer film press)
Flexo varnish print unit (for flexographic press and UV coating)
9 UV-dryings with air cooling (New UV lamps)
Semi-automatic wash up device
Rotary die-cut unit (for self-adhesive label)
Cold foil stamping unit
Cold lamination unit
UV-lamination unit
Corona treatment device
Turn bar station for back side printing
Edges trimming device
Web clearner unit
Rotary sheeting station (roll-to-sheet trimmer)
Carton box cutting system
Conveyor stacking machine
Rewind unit with tension control
2 antistatic devices
Web inspection camera with register monitor
27 plate cylinders (with round of pattern 292.1; 365; 431.8 mm)
3 magnetic cylinders (with round of pattern 292.1; 365; 431.8 mm)

Ventilation system for printing machine.

Library of printing and cutting plates (about 200)


ADVANTAGES:

- The heavy design extinguishes vibrations and provides the invariance of technical characteristics.

- Management of inks and adjustment of colourful zones happens in the course of the press.
Forget about anilox rollers!

- Central drum provides the highest imposing, exact registrations and the minimum length of material for makeready - 50-60 meters only.

- Quick change plate cylinder with gear, pre-registered impression drum for all printing stations etc, makes the fastest job set up speed for this type of machine in the world.

- UV letterpress as main printing stations, not only the resolution is higher than flexo (assist printing station), dots and solid color can be in one plate / station printing (unlike UV flexo must use 2 plates / stations), but also the consumer cost (e.g. plate, ink etc) is much less.
Use cold foil stamping glue applying by UV letterpress station can get better stamping effect (than flexo) also due to above reasons (e.g. thinner glue layer benefit for micro icon stamping etc).

- Perfect tension control and electrostatic solution etc, is able to handle various printing substrates from 12u to 400u thickness (depends on substrate type).


ASSOCIATED EQUIPMENT PACKAGE:

In addition, I offer associated equipment package (pre-press & rewinder machines):

1. Jurmet Langer 3
Rewinder (2016 year, Poland)
2. Sys Tec Narrow Web 360
Plate mounters for narrow web flexo (2016 year, Switzerland).
3. Heidelberg Hercules & Glunz & Jenssen
Production and development plates (Germany)
4. Jet Waterpress 70
Plate processing systems (2015 year, Netherlands)
5. Plug cutting machine
(2016 year, China)

Associated equipment package is sale only at the same time with Labelmen PW-260-R8C or later.


PRICE & TERMS:

The prices includes professional dismantling, packing and loading machine in transport of the Buyer.
Also, duty of the Seller will be export customs clearance in country of Seller.
Terms of delivery are discussing (it can be EXW, FCA, CIP, FOB).

The seller under the contract - the owner of machines.
As bonus, Employees of the Buyer can arrive to training before dismantling.

Offer subject to prior sale.


WELCOME:

If you have any queries or questions concerning this machine please don't hesitate to contact me.
I will be glad to answer your questions.

Thank you in advance and thanks for your attention!
Located:
Russia
Current State:
Under power
Available:
Immediately